Create:Fixate's community of artists inspire at-risk youth to discover their voice through creativity. We give many young minds their first awareness of their artistic talent and their first chance to exhibit their art in a Create:Fixate art show.
"Young Creatives" is a six week satellite program that partners with different after-school youth groups as a supplement to their regular arts curriculum. We work with the art students on a themed art project and specialize in consciously teaching self expression through art, project management and reaching goals, and how to present themselves to the public. Classes include studio art working with an array of mediums, digital photography, and spoken word.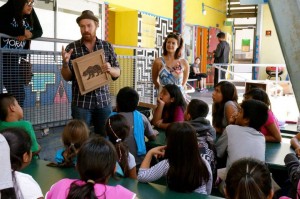 Each class features a guest artist selected from the C:F community. The guest artist shares their skills and demonstrate how they make their visions come to life. Sharing stories about their path of pursuing a creative career makes their visit very inspiring for the students. Critical, direct engagement with Create:Fixate artists and arts professionals gives deserving young people a wider view of life beyond high school and introduces them to a range of productive and valuable careers in the arts (professional artist, curator, movie set designer, animation, video game design, graphic design, etc.).
What makes the program so special is that the session culminates with two field trips to the C:F gallery. The first visit includes sharing the behind-the-scenes production of the art show, a tour of the art exhibit personally guided by the curator, and then the students participating in the hanging process of their own art work. The second visit is when the students return to the gallery on the night of the show's opening.  It's always something special to see their eyes light up and their personal pride beaming in all directions as they share their art pieces along with the entire exhibit with their friends and family.
Past and Future Community Partners Include:
A Place Called Home, Youth Speak Collective, Green Ambassadors, Sun Valley High School, Venice Arts,  and the Boys and Girls Club.
We welcome financial donations to help support this program.
Your assistance will help us buy art supplies and frames, provide transportation for the students to and from the gallery, provide compensation for teaching artists, and fund the back-bone administrative support that helps make this program happen.